To be honest, I didn't fully understand the following message from George:
"Jan 1 handling test it never got in the air but handled well I will just wait till spring. 53Lbs of delta it did get light on the wheels.
It sure takes up a lot of room on the field. It should be like a balsa overcast in the air."
This is the first photos I saw of the bunch. Looks like a slightly modified cowl on the Delta Vortex.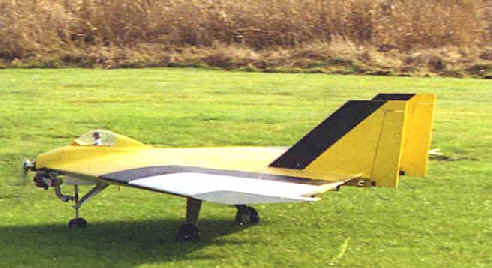 At first glance, I thought this was a camera trick, an optical 'delusion':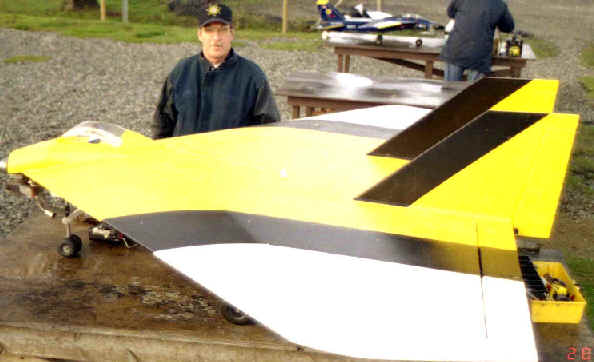 But now, look at the perspectives. If this is a trick photo, its a darned good one!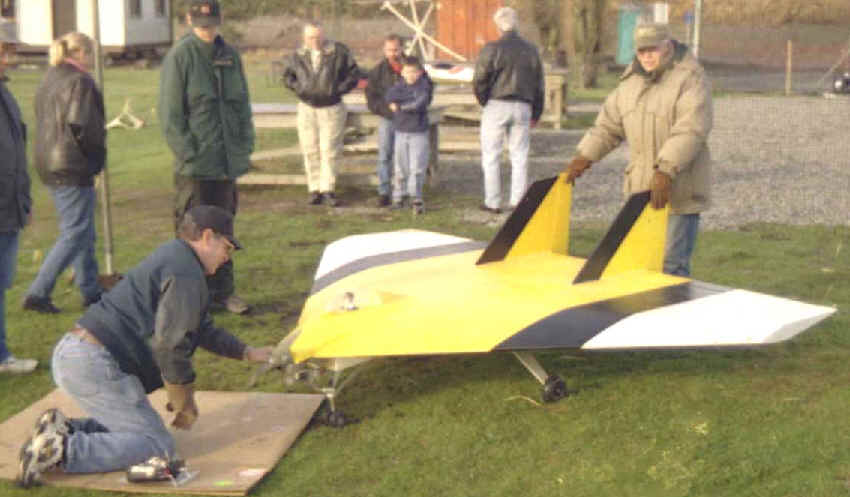 Here is what George, himself, says:
"Here are some pictures of the latest version had to extend the nose 8" to maintain the cofg. With a G62 at sea level the nose wheel comes up at about 50 feet and the main are off at 100.
"Surprisingly at 53 pounds it flies like a regular delta. This is a real compliment to Bruce's design any time you can double the airplane and have it fly like the original says a lot for the basic engineering. We did however at a big bird show find out that at 4000 feet alt and an 80 degree day it is somewhat lacking on power but still managed to fly both days at the show.
"It now has about 21 flights on it and the only problem is trying to get the angle right for landing if anybody's interested or has any questions please feel free to contact me: g_mckay at telus.net"
Note: Email address format changed to prevent George from receiving tons of SPAM - we humans ought to be able to figure out how to transform it back into a real email address. There are just too many scanners collecting email addresses off sites like this).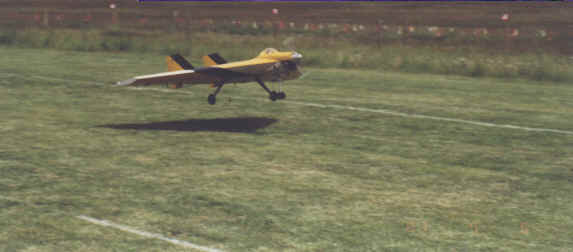 Bruce's Comments: I had the distinct pleasure of flying this giant at an event here in Oregon. What a big pussycat! Most would consider it underpowered, but it was a magnificent site in the air and fully capable of loops and rolls. George, thanks for the chance to fly your DVx2 - it's incredible!
<Go Back to Index Go to Next Model>