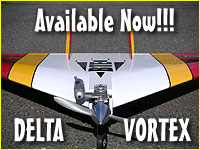 - It's been a two-year wait for this, but the BTE Delta Vortex kit is finally back in production. Kits are ready to ship out the door, so now is the time to get your hands on one even if you plan to stash it away for later. Then again, why do that? The Delta Vortex is so quick and easy to build you could have yours in the air this flying season! Be sure to check out the newly-revised Builder Gallery to see what others are doing with their DVs. Click here for more info about the kit and optional accessories.
- Unfortunately, Flyin' King, Super Flyin' King, and Reaction 54 kits are currently out of stock. We are keeping a notify-when-ready email list for each design, so let us know if you would like to be added. You will hear from us as soon as each kit becomes available again.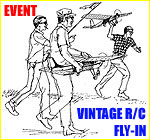 - Bruce will be the CD at an upcoming event at his home field in Medford, Oregon. The fourth annual Vintage R/C Society Northwest Fly-in will be August 30-31, that's a Friday and Saturday. This is the only vintage R/C gathering west of the Rockies! Anyone with a model that was designed, published, or kitted in 1977 or earlier is more than welcome to join us for a couple of days of relaxed flying and story telling. Click here for more info about the event.

Click here for a handy list of Vintage R/C Resources.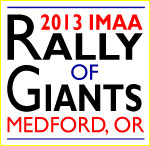 - Another event is coming to Bruce's home field, and this is a BIG one! The IMAA moves their annual event to a different location every year, and this summer it will be hosted by the Rogue Eagles R/C club in Medford, Oregon. There will also be float flying at a nearby lake during the four-day Rally, so bring your big birds and your float planes. Make plans now to join us in beautiful Southern Oregon. Click here for more info about the event.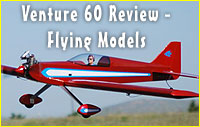 - The January 2013 issue of Flying Models magazine features a glowing kit review of the Venture 60. The author is none other than Larry Kruse, a well-known columnist for over thirty years, and a master craftsman for even longer! Larry actually built his V60 from the last batch of kits, and Flying Models graciously held onto the article until the kits were finally available again. Thank you Larry and Frank Fanelli (editor) for your support of the hobby. Click here for more info on the Flying Models review.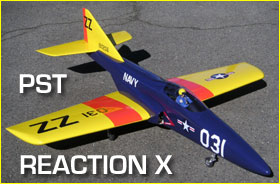 - PST offers this all-composite ARF version of the Reaction, now available with the original short nose or extended long nose in five different color schemes. Its big wing and forgiving manners makes it popular with entry-level turbine pilots. Experienced pilots love it too as a relaxing change-of-pace jet. Save money when you bundle it with retracts or a turbine. Click here for all the details.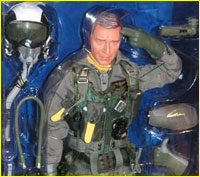 - We have been quietly selling these 1/6-scale Blue Box Elite Force Pilots for a few years now. Jet modelers appreciate these poseable figures for their amazing attention to detail, their uniforms, and the intricate accessories that are included. All are 1/6 scale, and many are fashioned after famous aviators, like George W. Bush shown here. They are perfect for the Reaction X and many other jets on the market.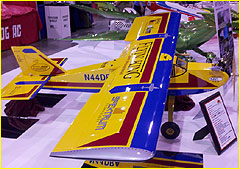 - Rick Arrowood's Toledo-winning Flyin' King is featured as a Focal Point subject in a recent Model Aviation (Dec 2012, page 60). He wrote, "I chose the Flyin' King because Bruce Tharpe, president of BTE, hand cuts all his kits. I have built several of his planes and all of them have been superb in quality and outstanding in craftsmanship." Thanks Rick, we're blushing! We caught another glimpse of the same bird in the current IMAA High Flight Magazine (Winter 2012, page 114). Rick is a one-man PR department for BTE. Click here for more pics and info.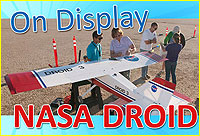 - One of the Super Flyin' Kings that Bruce built for NASA made an appearance at the AMA Expo last January. They have dubbed it DROID for Dryden Remotely Operated Integrated Drone. Beats the original acronym which was GUT (Gordon's Utility Trainer). BTE is thrilled to see these aircraft finally being put to good use, both in research and educational outreach programs.
LINK More Info on the DROID and the AMA Expo (AMA Website)
LINK Are These the DROIDS You're Looking For? (Dryden Website)

- Many moons ago, BTE fanatic Stephen Cohen started websites for the Venture 60, Flyin' King, and Delta Vortex. Several years later, BTE took ownership of the sites, and now they have finally become part of our main website in the form of Builder Galleries. Each gallery features tons of pics and info on BTE models built all over the world. Galleries for the Super Flyin' King and Reaction 54 are in the works.
- www.venture60.com is now the Venture 60 Builder Gallery.
- www.flyinking.com is now the Flyin' King Builder Gallery.
- www.deltavortex.com is now the Delta Vortex Builder Gallery.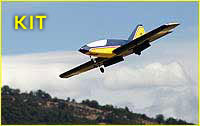 - Looking for an inexpensive way to join the turbine crowd? The BTE Reaction 54 kit is the perfect choice for first-time jet builders and experienced jet pilots alike. Click the pic for much more info.



* * * * * * * *

Sorry builders, the R54 wood kit is out of stock right now, but the all-composite Reaction ARF is a high-quality alternative.

- Handibond has changed, for the good. Same name as before, but now it's made in the USA. Bruce put this CA to the ultimate test, using it almost exclusively in the construction of the "Storm Chaser" Super Hauler (see below). BTE is proud to carry, and use, this quality adhesive. The best part? The price! Click here for more info on the complete line, quantity discounts, and package deals.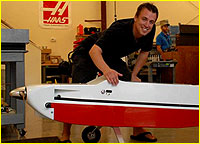 - In 2009, BTE contributed to one of the coolest projects ever. This Super Hauler was flown in front of oncoming tornados and dropped sensor probes. In our humble opinion, it was the single most eye-catching piece of equipment used in the entire third season of Discovery Channel's Storm Chasers show. Congrats to the crew from Radiance Technologies who operated the Super Hauler in a safe and professional manner despite the extreme conditions. Kudos also to Reed Timmer and the TVN crew who pulled the trigger on this risky project. BTE is very proud to be involved with dedicated and passionate people like this.

- Bruce spent much of 2008 building three big UAVs for the University of North Dakota. It is a stretched version of the Super Flyin' King, optimized for heavy lifting. We consider it a new design, and have named it the BTE Super Hauler. There are no plans to offer the Super Hauler as a kit, but click here for an inside look at the project.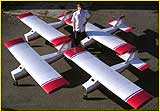 - These four modified Super Flyin' King airframes were built at BTE for NASA. They are now being used at the Dryden Research Center, located on Edwards Air Force Base, for a variety of missions. The folks there call them DROIDs, which stands for Dryden Remotely Operated Integrated Drone. Click here for more info.

LINK Are These the DROIDS You're Looking For? (Dryden Website)