- Rough news for Venture 60 fans... Sorry, but Venture 60 kits are entirely out of stock and will most likely remain that way for a long time; probably the rest of 2022 at least. Right now, only Flyin' King kits and Delta Vortex kits are in stock. Click here to read more about the Venture 60 stock situation.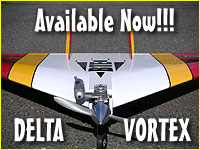 - Some of us march to the beat of a different drummer. If out-of-the-ordinary appeals to you, then the BTE Delta Vortex is your kind of model! Tne DV has been out of stock for years, but it's finally available again. Build and fly something truly unique. Most deltas are designed for pure speed, but the DV features twin rudders and a surprisingly thick wing for mild speeds and aerobatics. Click here for more info.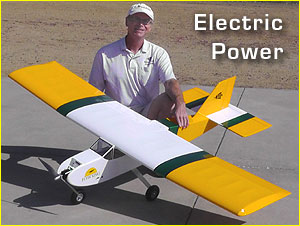 - Exciting news from BTE! We are proud to introduce our first official Electric Power Conversion Package. Engineered specifically for the Flyin' King, it features upper-tier components at mid-range prices (no cheap junk!). The Cobra brand motor and ESC are from Innov8tive Designs, a long-time leader in the electric power community. Included in the package is a prop, a motor standoff, an installation kit, and a full-size plan. VIDEO!

The Flyin' King is a natural for electric conversion, and lots of our builders have done it on their own over the years. The BTE package takes all the guesswork out of the process. It's all figured out! Click here for more info.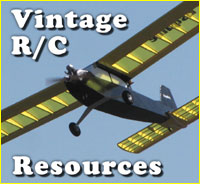 - Bruce's main hobby interest for the past couple of years has been vintage R/C models - models that were designed at least 35 years ago. Finding info and plans for those old designs took a lot of research, so he decided to compile all of those resources into a single list. Looking for a vintage R/C project? This would be a good place to start! Click here for the list with links to all of the resources.

- NEW for 2022: THE GREAT VRCS KIT LIST FOR 1978-1986.
VRCS has a rolling cutoff date of 35 years. That means that any model designs from 1986 or earlier are considered eligible for VRCS fly-ins. Here's a list of nearly all the American kits that were available in 1978 - 1986.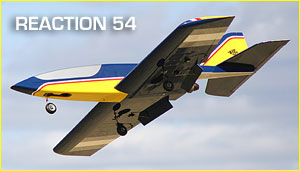 - Unfortunately, we are now out-of-stock on Reaction 54 kits. With many other projects taking priority at BTE, there may not be a new batch until well into 2022. Please email us if you would like to be added to our notify-when-ready list for the R54.

Click here for more info on the R54 kit and accessories.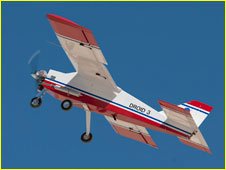 - The Super Flyin' Kings that Bruce built for NASA have a new name - DROID. It stands for Dryden Remotely Operated Integrated Drone. Beats the original acronym which was GUT (Gordon's Utility Trainer). They are being used in a variety of ways, both in research and educational outreach programs. Click here for more DROID info.

LINK NASA Dryden's DROID Mini-UAV Reaches New Heights
LINK Auto-GCAS Flight Tests on DROID UAV Declared a Success
LINK Are These the DROIDS You're Looking For?

- Update from the Armstrong (formerly Dryden) Flight Research Center: They have just tested a twin-fuselage glider system towed aloft by a DROID. This particular DROID (modified Super Flyin' King built at BTE) was upgraded to a DA-170 for extra towing power.

LINK Towed Glider Launch System Test Flight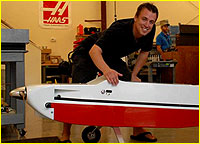 - In 2009, BTE contributed to one of the coolest projects ever. This Super Hauler was flown in front of oncoming tornados and dropped sensor probes. In our humble opinion, it was the single most eye-catching piece of equipment used in the entire third season of Discovery Channel's Storm Chasers show. Congrats to the crew from Radiance Technologies who operated the Super Hauler in a safe and professional manner despite the extreme conditions. Kudos also to Reed Timmer and the TVN crew who pulled the trigger on this risky project. BTE is very proud to be involved with dedicated and passionate people like this.